Opening Hours
Our fully licensed restaurant is open Friday & Saturday for Lunch and Wednesday – Saturday from 5.30pm for dinner.
Our bar and bar food is open from 5.00pm.
Cooking Classes are held on Sundays and Mondays
ABOUT US
The Golden Restaurant and Cooking School is owned by Mark and Katrina Ryan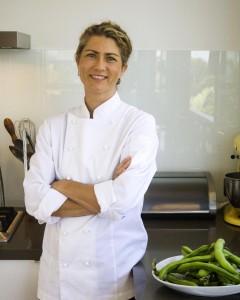 Katrina Ryan
As former Head Chef in Neil Perry's famous 'Rockpool' restaurant and having owned her own successful restaurants, Katrina commenced her cooking career in 1987. She went to work for Neil Perry, first at Bondi Beach's 'Blue Water Grill', and then to 'Rockpool' for 5 years. Three of those years were as Head Chef, overseeing burgeoning apprentices such as Kylie Kwong.
The arrival of children saw Katrina assisting her husband Mark with the running of their two restaurants, 'The Pig and the Olives', and several stints working as personal chef to Nicole Kidman and Tom Cruise.
A sea change in 2000 brought the family to Noosa and Katrina joined the team at the 'Spirit House Cooking School' in Yandina, where she worked until July 2012. Katrina is also a co-author of the new Spirit House Book 'Hot Plate'. For many years she wrote a weekly food column for the 'Noosa Journal' and in 2005-2006 filmed a series of cooking segments at the Spirit House for the TV program 'Escape with ET'.
From 2009 – 2011 Katrina taught as guest chef on a regular basis at the 'Sticky Rice Cooking School' in the Adelaide Hills. Katrina has travelled regularly to Thailand and Vietnam as part of the Tag–a-Long tours for the Spirit House and in April 2011 lead a food tour to Tasmania.
Katrina was a contributor to The Great Australian Cookbook which was released in September 2015 and The Great Australian Baking Book released in June 2017 .
Katrina and Mark established the business in 2012. It operated as a cooking school, cafe and a function venue for parties and weddings and has gained a reputation for hosting innovative and highly successful corporate events incorporating food, wine and beer.
In July 2018 the cafe closed and the Golden Pig Restaurant was launched. The food draws from Katrina's past experience and features modern Pan Asian cuisine. The restaurant is open Wednesday – Saturday nights and Friday& Saturday lunch. Cooking classes are held on Sundays and Mondays. The Golden Pig is available for private classes, events and functions.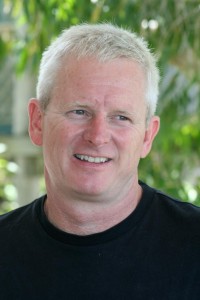 Mark Ryan
Mark's first taste of hospitality was as a waiter at the famous 'Nautilus' restaurant in Port Douglas in the early 80's, he then went on to undertake a cooking apprenticeship in Sydney at Kinselas, at the time run by Tony Bilson. He worked at various restaurants in Sydney including Barrenjoey House and the Blue Water Grill where he met Katrina.
He was Executive Chef at the Bathers Pavilion at Balmoral before opening his own restaurant in Potts Point, "The Pig & The Olive" in 1993, and a 2nd 'Pig and the Olive' restaurant in Cremorne in 1995.
In 2000 Mark undertook a sea change & settled on Queensland's Sunshine Coast with his family. Inspired by the beach environment & sub tropical climate, Mark returned to studies and is now an award winning building designer & BDAQ member.
Marks' design philosophy centres on creating functional spaces that are aesthetically pleasing and incorporate the principals of energy efficiency & sustainable design. It is these skills he has brought to the design of the Food and Wine school. Mark's 'green thumb' has created a lush space of green vegetation in an industrial environment.