CORPORATE TEAM BUILDING EVENTS AND PRIVATE FUNCTIONS
We can customise the perfect corporate or private event for your needs, from a team building experience that staff will be talking about for years, to a specially tailored food and wine event to spoil your clients.
And if you're looking for a great space to party, for events like a special birthday or Hen's party, why not talk to us about something unique. We have held engagement parties, wedding parties, cocktail parties, birthday parties and large number of private functions. We are able to seat up to 70 guests for a sit-down event and approx. 150 for a cocktail event.
3D VENUE VIRTUAL TOUR
HANDS ON COOKING CLASSES
( 3-4 hours) Prices start at $180 + gst per head (minimum numbers apply)*
As the ancient Greek philosopher, Plato, said, " You can discover more about a person in an hour of play than in a year of conversation".
Our most popular classes for groups are a cooking class format which we call Part Hands on/ part party. This program is designed to be informative, casual and fun – even for the most reluctant cooks! 
Guests will have time to chat and observe and interact with other participants during the preparation/cooking time. 
We have 2 tiers for this class.  Click on the links below to view menus for this format.
COCKTAIL PARTY WITH FINGER FOOD
Packages start at $80 per head + gst*
Our 300sqm warehouse can cater for up to 150 people for a cocktail style party.
We have a flexible floor plan to accomodate video presentations, live music and dance floor and lounge area.
The venue is perfect for product (food/wine/beer) or book launches, birthday parties etc.
*minimum spend applies on Friday and weekends and venue hire is applicable for smaller groups.
ASIAN BANQUET STYLE LUNCH OR DINNER
Banquet menus start at $90 per head + gst*
We can cater for up to 70 for a sit down meal.
*minimum spend applies on Friday and weekends and venue hire is applicable for smaller groups.
INTERACTIVE FOOD AND WINE EVENTS
The sky's the limit with these events!
With our luxe corporate events we incorporate guest speakers and producers showcasing premium food and wine as well as some fun hands on activities.
We have had truffle growers from Tasmania matching canapés with Tasmanian Sparkling, Spanish Iberian jamon and Sherry tasting, Caviar tastings, Snail Races featuring Glasshouse Mountain live snails, Mooloolaba Tuna, and hands on activities in the kitchen featuring Asian finger food and Moroccan breads and sausages.
The activities culminated in a sit down 3 course shared lunch with matching wines.
Whether it be a corporate dinner, a whisky tasting, French Champagne or premium Australian seafood (or a combination of all!) we can provide a very special, uniquely tailored event, specially themed to wow! your clients.
Please contact us at oink@goldenpig.com.au to discuss.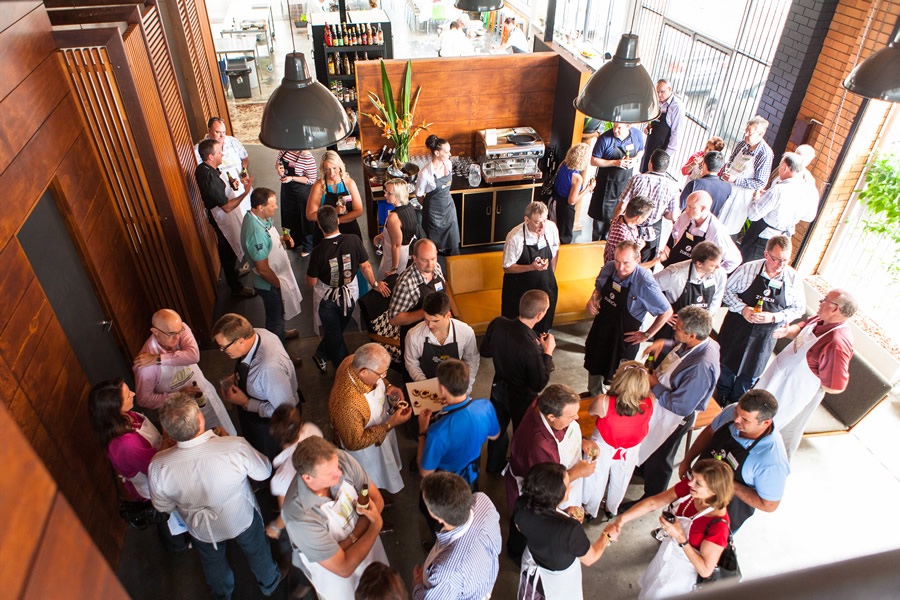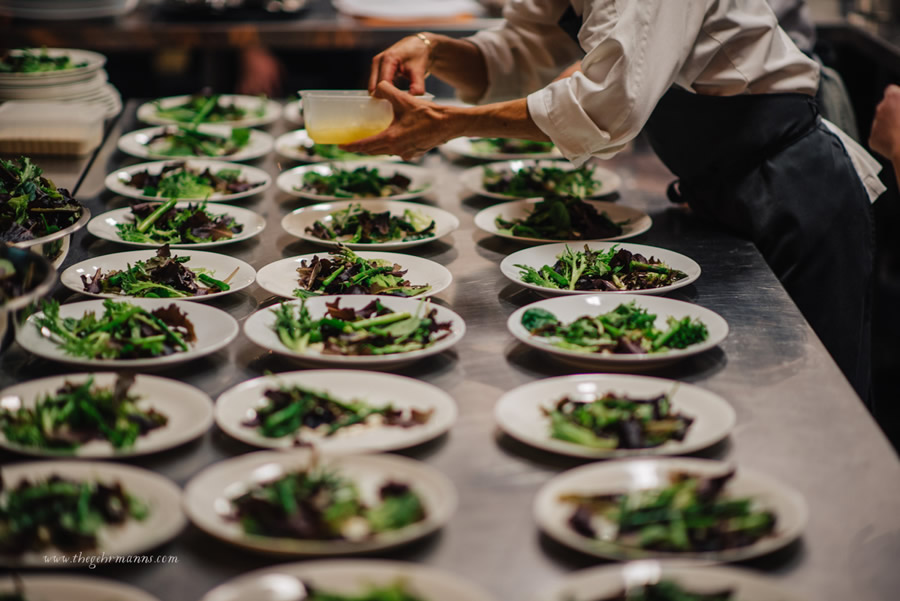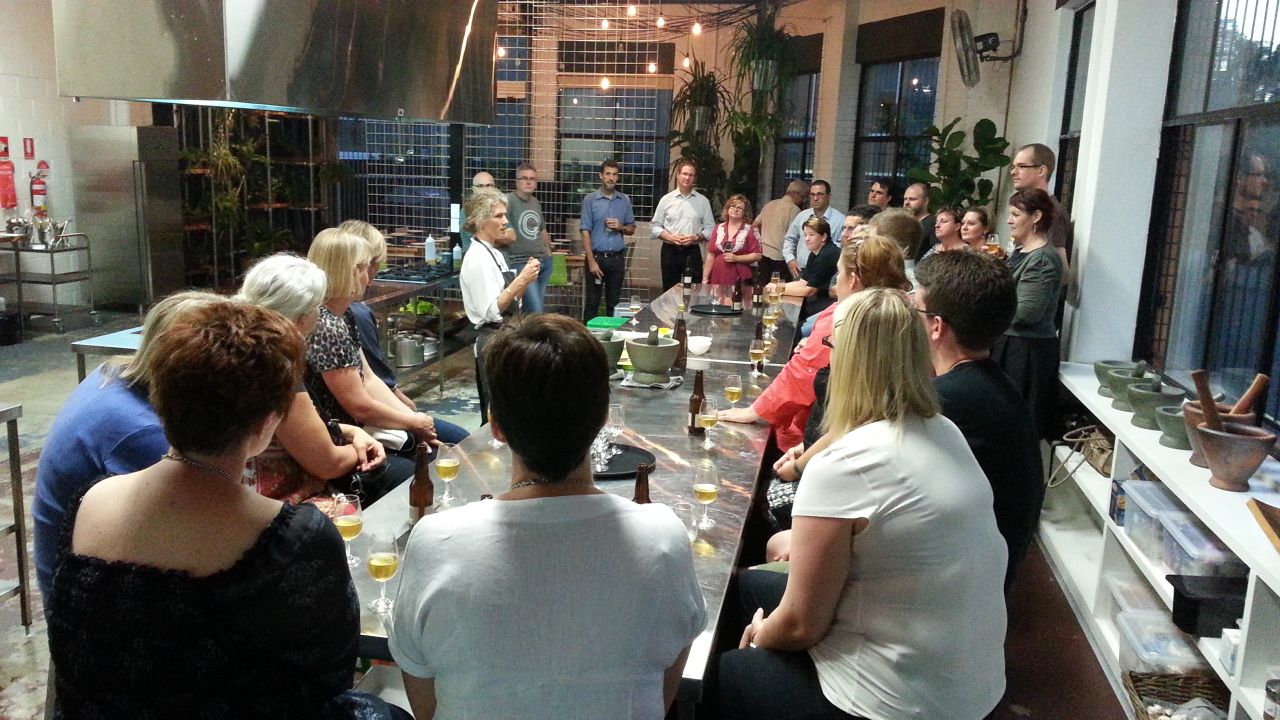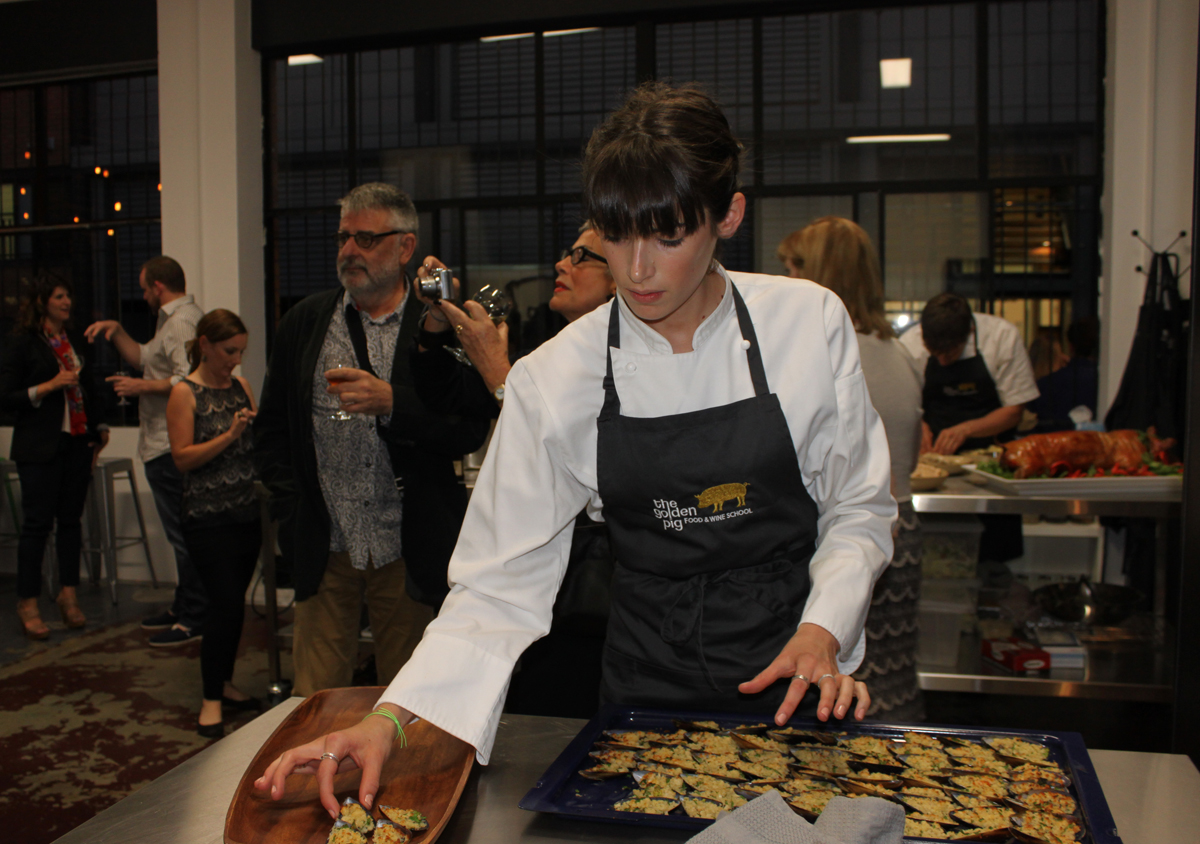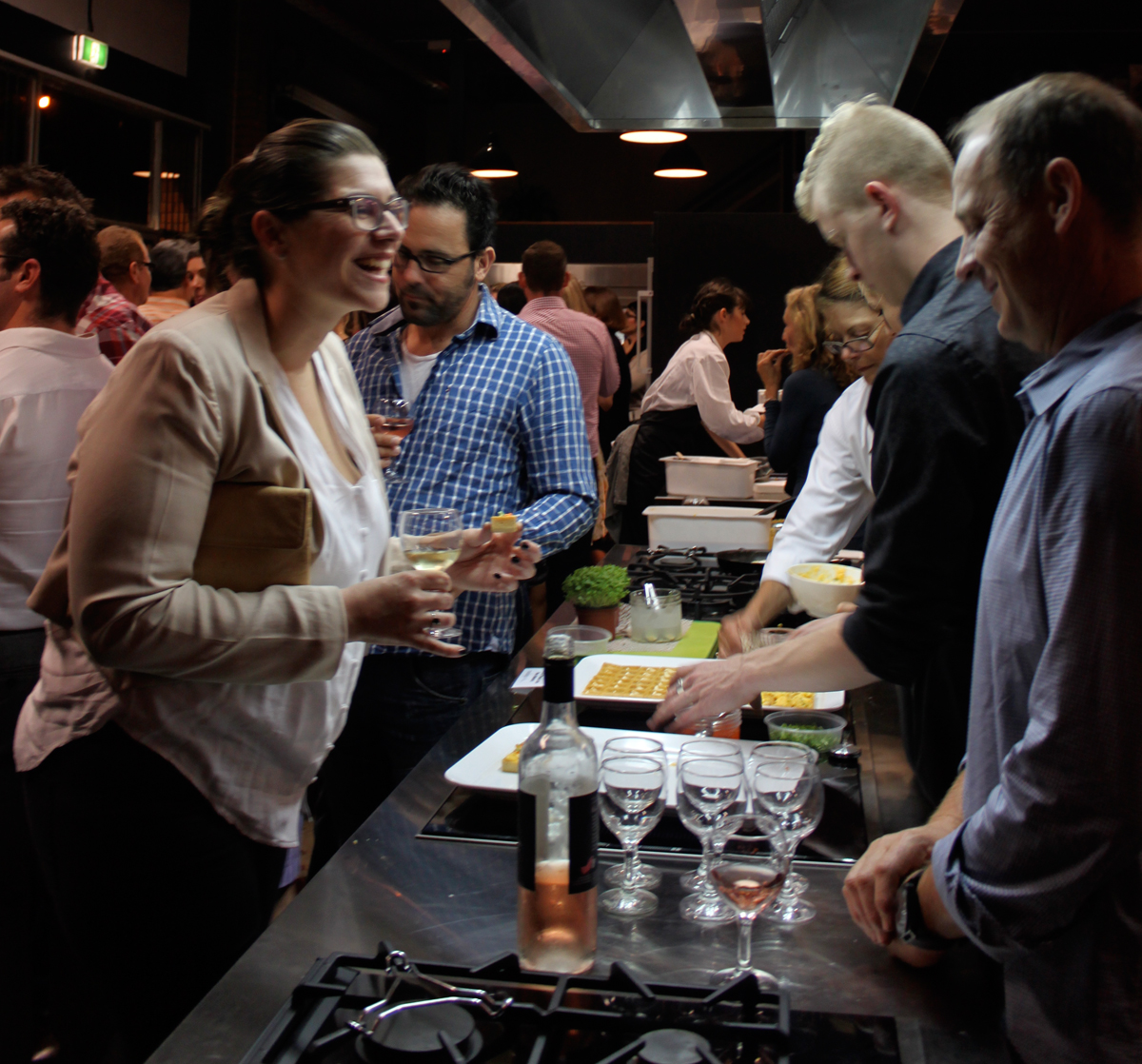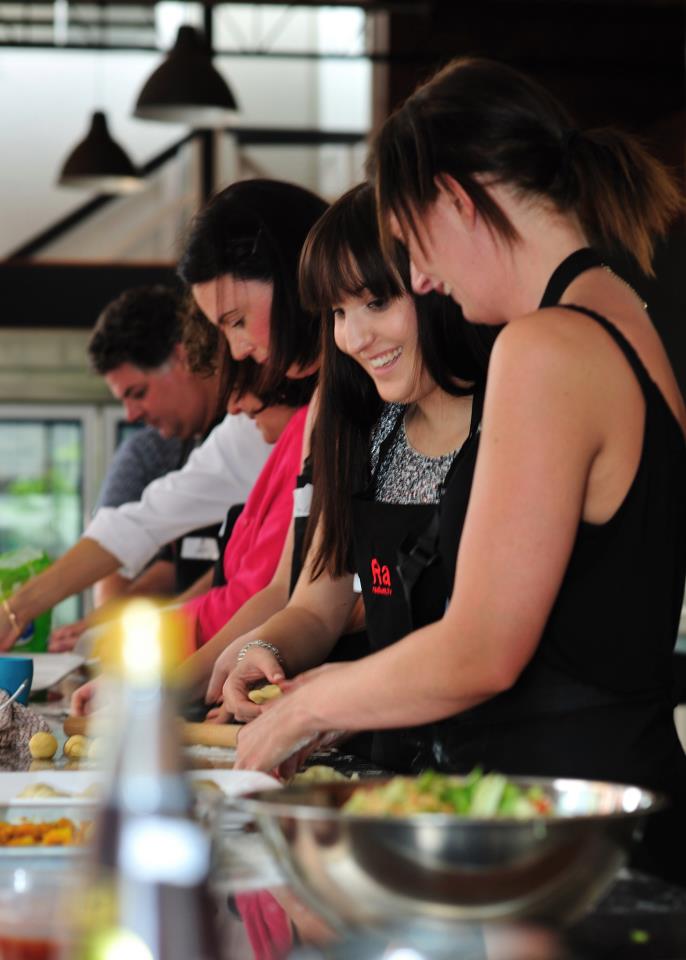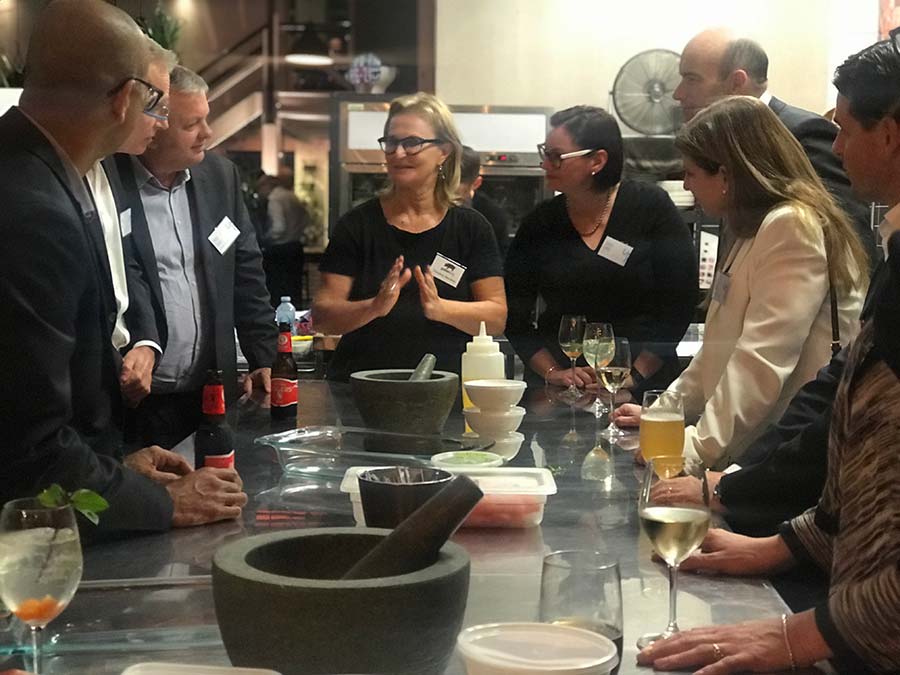 Testimonials
We've just been reviewing the feedback from our staff post event and they are raving about how much they enjoyed the cooking and lunch with you and your team. We're extremely pleased with how the event ran over the two days – it felt seamless for us. A big thanks from Jodie and I also for being so easy to work with.
From our team to yours – a huge thank you. It was a great success and we are all huge fans of the Golden Pig!
Regards,
Melanesia Carson , AAco
Thank you so much for your warm welcome, good humour and all of the hard work that went into our Christmas Party on Friday night.We all had a wonderful time, thoroughly enjoyed the food, and couldn't fault a thing.
Thanks again for a great evening.
Georgia Blocksidge, Blocksidge Real Estate
Thank you so much for a wonderful experience and your hospitality on Friday.  The team at CSQ haven't stopped raving about the day and saying hands down it was the best Christmas party yet.
Thanks again
Carla Crawford, Construction Skills Queensland 
We would like to send a big thank you over to you and the all of The Golden Pig team who helped last night.Our clients and staff absolutely enjoyed themselves so much, they really love the format that you have set up there; it certainly makes for a fun team building event whilst relaxing over a nice wine and some cooking!
Kind regards
Rachel Sakurai,  Computershare
"Just a quick email to say a very big 'thank you' for a wonderful night on Friday.  All our team thought it was fabulous, one of the best staff nights we have ever had!
Your team were all very professional and hospitable and your venue is fantastic.  Thanks again for the laughs, cooking techniques and warm hospitality.  We can't wait to come back!"
Sam Fraser, QTCo
"Thanks so much for the great event last night! Everyone had such a fantastic time & the cooking together really inspired conversation & set the mood for the night. The food and service was first class & there has been many emails & phone calls today from very happy clients!"
Kate and Darren De Courcy, Motorline BMW
"Katrina, Mark and the team @ The Golden Pig, HUGE Thank you for making the Zenith launch a unique, memorable and fun event with the most amazing food of course! Will be hard to beat next year! I do hope we can work together in the future,

Mary and the team @ Zurich"
Mary Jacques, Events Manager, Zurich Financial Services Australia
"Hi Mark and Katrina,

We just wanted to touch base again and say a huge thanks to you both (and your staff) for making our team building day such a success

I don't think we've ever had a team building event which has inspired every single person to get involved and it was wonderful to see people laughing and having so much fun. Everyone has commented on what a great day it was and how much they enjoyed it.

It was great to see people working side by side with others that they normally wouldn't be involved with on a daily basis. All in all it was a wonderful day and was exactly what we had been trying to achieve for our team building event.

Our staff have already taken the recipes home and have been cooking up a storm. Cheryl made the spaghetti on the weekend, Claire had a make your own pizza night with her family and Katrina made the sausages with her 4 year old nephew. I'm planning on cooking up the gnocchi in a couple of weeks for some friends too.

We got some fantastic photos on the day and they are up on our wall in the office as a reminder of the good times.

Thank you again for being so accommodating and for working around what we wanted, for being so friendly and helpful and for all the effort you and your staff put into making the day such a success.

Its going to be hard to top it for our next event!"
Kym Tully, PA, Pitcher Partners, Brisbane
"Hi Mark and Katrina

WOW – what a fabulous night.  Thank you both for all that you did for our function – the feedback has been brilliant they want to do it every Friday night.  How satisfying for everyone to cook all together and work as a team then sit down and enjoy such great food.  It was a great choice.

Thank you again and I look forward to working with you both in the future.

Kind regards, Deborah Easton"
McGrathNicol, Brisbane