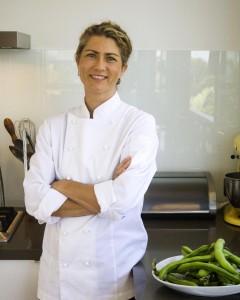 KATRINA RYAN
As former Head Chef in Neil Perry's famous 'Rockpool' restaurant and having owned her own successful restaurants, Katrina commenced her cooking career in 1987. She went to work for Neil Perry, first at Bondi Beach's 'Blue Water Grill', and then to 'Rockpool' for 5 years. Three of those years were as Head Chef, overseeing burgeoning apprentices such as Kylie Kwong.
The arrival of children saw Katrina assisting her husband Mark with the running of their two restaurants, 'The Pig and the Olives', and several stints working as personal chef to Nicole Kidman and Tom Cruise.
A sea change in 2000 brought the family to Noosa and Katrina joined the team at the 'Spirit House Cooking School' in Yandina, where she worked until July 2012. Katrina is also a co-author of the new Spirit House Book 'Hot Plate'. For many years she wrote a weekly food column for the 'Noosa Journal' and in 2005-2006 filmed a series of cooking segments at the Spirit House for the TV program 'Escape with ET'.
Since May 2009 Katrina has taught as guest chef on a regular basis at the 'Sticky Rice Cooking School' in the Adelaide Hills. Katrina has travelled regularly to Thailand as part of the Tag–a-Long tours for the Spirit House and in April 2011 lead a food tour to Tasmania.
Katrina has been a member of Noosa Slow Food since 2005 and was President in 2011. Katrina is passionate about supporting Australia's small scale food producers and using food that is produced in a sustainable manner.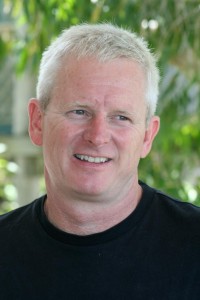 MARK RYAN
Mark's first taste of hospitality was as a waiter at the famous 'Nautilus' restaurant in Port Douglas in the early 80's, he then went on to undertake a cooking apprenticeship in Sydney at Kinselas, at the time run by Tony Bilson. He worked at various restaurants in Sydney including "Barrenjoey House", "The Wharf" and the "Blue Water Grill" where he met Katrina. Mark then ventured overseas and traveled through southern Europe before taking up the position of Head Chef at "Sonny's" restaurant in Barnes, London.
Upon his return from Europe Mark worked as Head Chef at "Streeton's" restaurant, then a brief stint at Neil Perry's "Rockpool" before being appointed Executive Chef at the "Bathers Pavilion" at Balmoral. In 1993 it was time to open his own restaurant in Potts Point, "The Pig & The Olive", and a 2nd 'Pig and the Olive' restaurant in Cremorne followed in 1995.
In 2000 Mark undertook a sea change & settled on Queensland's Sunshine Coast with his family. Inspired by the beach environment & sub tropical climate, Mark returned to studies and is now an award winning building designer & BDAQ member.
 Marks' design philosophy centres on creating functional spaces that are aesthetically pleasing and incorporate the principals of energy efficiency & sustainable design. It is these skills he has brought to the design of the Food and Wine school. Mark remains passionate about good food and is a member of Slow Food. He was assistant tour guide on the Taste of Tasmania tour with Katrina in April 2011.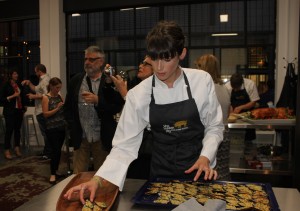 GEORGIA HINE
What can you say about a girl like Georgie! She has it all, looks, smarts, personality to boot and is a natural in the kitchen!
Georgie was our first employee at The Golden Pig. She had never worked in hospitality before and walked in for her interview looking like Anne Hathaway in "The Devil Wears Prada". The position she applied for was kitchen hand and assistant in our cooking classes. At first glance Katrina and I had our doubts that she would cope or last, we pointed out that it wasn't a glamorous position being kitchen hand and that there was a really big floor to mop after every class, but she wouldn't be deterred, so we said 'come on in, the waters fine'!
Little did we know at the time how lucky we were. Georgie is passionate about food, art, film, cross fit, her man Tom and life in general. She throws herself enthusiastically into whatever she does, and in the past that included a degree in film and television at QUT. Georgie is a true foodie, I think she even dreams about food, or at least eating it! Georgie has a natural rhythm in the kitchen, she is organised, fast and best of all anticipates, she has taken to it so well that she now runs our cafe kitchen on Katrina's days off and under Katrina's keen eye, cooks up a mean curry.
We love her being part of our small close knit team, she's part of our family of "golden piglets".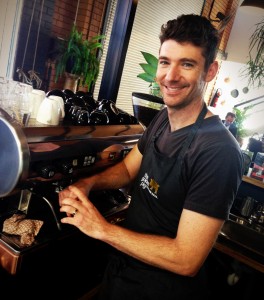 COLIN WARDLE
Colin is our fantastic barista, "the man on the machine", pumping out delicious coffees daily whilst at the same time deftly charming all the female customers and to everyone's amazement, remembering almost all of our regulars usual coffee.
Colin had not worked in hospitality when he came to us, there was no doubt that he knew coffee and was extremely passionate about it, he just hadn't worked as a barista before. He had 'been on the tools' before but just very different tools, in fact he was a tool & die maker, making the dies that tools and other parts are cast from, whilst all the time nurturing a passion for all things coffee, even restoring old coffee machines in his "man shed" at home.